Cruising through the Panama Canal to San Diego aboard the Veendam offers us memorable Central American destinations, including Antigua. After a scenic ninety-minute coach-ride through rolling green countryside, we arrive in Guatemala's World Heritage city. "Welcome to our colonial capital and heart of the Mayan world," smiles guide Karen.
Along narrow raised sidewalks, our walk winds past several earthquake-damaged buildings. Cobblestone streets bustle with pedestrians and traffic. Villagers often approach to sell hand-woven textiles, musical instruments and jewelry.
Two short bell towers flank Church of Mercy's white-filigreed, yellow façade. Atop, we sight San Pedro Nolasco, 13th-century founder of this Catholic order. Blessed Virgin Mary of Mercy stands in the central niche. Of two saints standing on her left, one holds a rope recalling his martyrdom. To her right, a bishop and the order's first nun.    
Inside Antigua's first monastery, we learn these Mercedarians helped heretics escape the Spanish inquisition and supported families of convicts. In turn, appreciative prisoners created the mosaics we see decorating stout interior columns. With wide arches, the sanctuary and cloister withstood earthquakes such as the one that destroyed 3,000   buildings in 1717.
Onward, we notice religious figures inside off-street enclosures. "Those are for Holy Week from Ash Wednesday to Good Friday," Karen explains. "Celebrating the Passion, Crucifixion and Resurrection, worshippers carry them, as well as Jesus Christ, Mary Magdalene and saints, along streets carpeted with flowers and coloured sawdust. It takes one hundred men to shoulder the larger floats."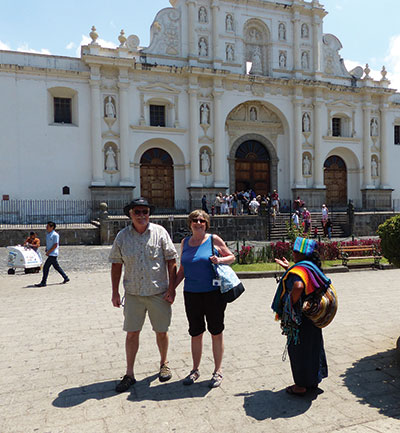 We soon pass under the 17th century Santa Catalina Arch, a covered passageway built to protect reclusive nuns from view. In the central plaza, Karen identifies the city hall and governor's palace. "Founded in 1543 by Spanish conquistadors, Antigua became the military governors' seat for 200 years," she says. "The Spanish colony of Guatemala then included much of Central America and Chiapas, Mexico's most southern state."
Constructed in 1554, Saint Joseph Cathedral now stands in baroque splendor. Destroyed repeatedly by earthquakes, only the front remains. Skeletal ruins behind recall its original grandeur. Here we see the tombs of Bernal Diaz, diarist of the Spanish conquests and Pedro de Alvarado, Cortez's second-in-command, who became Guatemala's first governor. His powerful consort Luisa was a Tlaxcaltec Chief's daughter who protected native communities. Karen points out her underground shrine where Mayans come to light candles.
Exiting past 17th-century university buildings, we enter Santo Domingo Monastery founded in 1538. Devastated by the Santa Marta earthquake and abandoned for centuries, it once boasted two towers with ten bells. Much of this city suffered similar destruction, so authorities moved the capital to Guatemala City in 1776.
Part of this demolished monastery has become today's Hotel Casa Santo Domingo. Seated at tables amid its lush gardens, we enjoy a Guatemalan lunch of rice, black beans, chicken, beef, guacamole and handmade corn tortillas.   
An onsite Art Gallery exhibits recovered monastery treasures, an interesting collection of religious art and artifacts. Before leaving we admire a magnificent Ceiba tree, the Mayan tree of life. Believing branches form crosses to 'show the way;' Spanish priests promoted Christianity through such native lore.    
An archaeologist at the Jade Museum provides an overview of Mesoamerican jade. Showing us replicas of famous pre-Columbian relics, she discusses importance of jade for over 3,000 years in cultures as far away as Costa Rica and southwestern Mexico.
While sampling aromatic Guatemalan coffee, we watch workshop artistes design jade objects for the showroom. There, we find Mayan glyph pendants for birthdays, bracelets and necklaces in dazzling colours. I opt for droplet earrings in pale green.
Antigua's architecture, historic insights, culinary delights and my jade memento make a wondrous daytrip.