Article & photos by Lenora A.Hayman.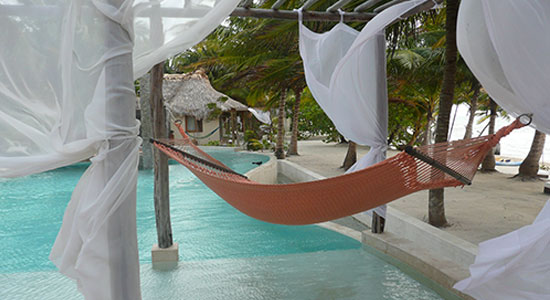 Belize, formerly British Honduras, is bordered by Mexico on the north, Guatemala on the west and south, and the Caribbean Sea on the east. It is the only country in the area where English is the official language.
My American Airlines flight via Dallas, took me to the Philip Goldson International Airport in Belize City, where welcoming Immigration and Customs Officers quickly checked me through to board Tropic Air for one of the frequent 15 min.  flights,  57 kms (36 miles) north to San Pedro in Ambergris Caye, Belize's largest island.
Years ago, whalers came here searching for the sperm whale secretion, ambergris, used as a perfume fixative, giving rise to the island's name.
Accommodation was at The Phoenix, offering 1, 2, and 3 bedroom condominiums, each with verandas overlooking 2 pools and the ocean.
Since I arrived in the late afternoon, my friends had already sailed 6.4kms(4miles) from the town of San Pedro, to have fun snorkeling and diving with docile  Nurse sharks and  Southern Sting Rays at Hol Chan Marine Reserve and Shark Ray Alley .They saw eels, turtles and Tangs with vibrant, electric blue bodies and black markings.
Elvi's Kitchen with huge murals of the keel-billed toucan, the national bird, a jaguar and Mayan figures, was the ideal place in San Pedro, to experience Belizean cuisine, an amalgamation of Central American and Mexican cooking. Appetizers of marinated conch ceviche, Jalapeno peppers stuffed with chicken and cheese and plantain chips preceded the Monday special of BBQ ribs followed by a "spider flan" with toffee tendrils. Going home after dinner, it was fun flagging down a golf cart, the main mode of transportation along the sandy roads,
North of San Pedro, 17.7kms(11 miles) is  El Secreto, a secluded, barefoot, luxury resort, which we accessed, next morning, by their private shuttle boat. A wonderful breakfast awaited us, including chocolate muffins and both Fry Jacks, the crescent-shaped fried dough accompanying the bacon and eggs and Johnny cakes, the flattened dense biscuits. The 13 exotic thatched roof villas, overlook the 297.77kms(185miles) Belizean Barrier Reef, the 2nd longest in the world and a UNESCO World Heritage Site. Australia's Great Barrier Reef is the largest. There are 3 sea villas, 4 tropical villas, 5 lake villas surrounding a man-made salt water lake, and a spa villa with its own private, double massage cabin, steam room, jacuzzi and sea and fresh water pools!
Back in town, we found the most time-efficient option for travel within Belize is by the small airplanes ,such as Tropic Air, providing frequent services to all parts of the country. We flew down the Caribbean Coast to Stann Creek District and Dangriga, the largest town in Belize, 88.5 kms (55 miles) from the capital of Belmopan and 172.2 kms(107 miles) from Belize City. The Garinagu( Garifuna,singular) of Arawak/Carib and African ancestry, live here in wooden houses, sensibly built on stilts, to catch the cooling breeze, surrounded by plantations of mahogany, their national tree, coconut and mango trees.  We witnessed humming birds pollinating the bright, red and yellow Heliconia flowers.
We stayed, in a fishing village, 19.3 kms (12miles) from Dangriga at The Hopkins Bay Resort with luxurious 2 storey beach houses, with 1,2 and 3 bedrooms, each with ensuite bathrooms.
After drinking a green coconut laced with Caribbean white rum, we were driven to Cockscomb Basin Wildlife Sanctuary, the world's only Jaguar preserve. Since all the 5 species of cat here, Jaguar, Ocelot, Margay, Puma and Jaguarundi are nocturnal, I noticed night cameras strategically placed, to catch their movements. Lurking  in the forest was the largest, land mammal in Central America, the Tapir, their national animal, related to the horse and rhinoceros with a flexible proboscis that moves in all directions. While we were quietly tubing down the river, also hidden in the 3 types of forest, virgin, primary and rainforest, were Wild Boar, Armadillos, White lipped and Collared Peccary and Coati.
During dinner at The Hopkins Bay Resort, I tasted saltfish Darasa with creole sauce.  Darasa is salted, grated, green banana mixed with coconut milk. Cassava or manioc root, when dried to a starchy or pearly extract, is called tapioca. After my cassava pudding with vanilla ice cream, I tried to dance the calories off to the rhythms of the Lebeha Garifuna Drumming Group.
Next morning we drove to the ATM Cave( Actun Tunichil Muknal), the Cave of the Stone Sepulcher, ranked by the National Geographic Society in 2012 as the number one sacred cave site in the world! Discovered in 1989, we viewed large, ceramic jars and  14 human sacrifice victims including the "Crystal Maiden" whose whole, skeletal remains, glistened with calcification. It's a wet and dry cave, 5 kms in length. The tour takes 3 hours and you have to swim through a flowing river and then climb up a treacherous wall to the dry cave. Before attempting, you must understand what activities are expected, and consider the risk and safety factor.
After our ATM  Cave  adventure,  we drove to Film Director Francis  Ford Coppola's Blancaneaux Lodge, a series of 20 deluxe  riverfront and garden view thatched cabanas overlooking the Privassion Creek waterfall. Dining out, under the stars, made my grilled lamb chops and my lemon grass mojito  rum drink taste especially good. Of course wines from Frances Coppola's own winery were offered as well.
Next morning, we were in Chiquibul National Park, within the Mountain Pine Ridge Forest Reserve, to visit the Caracol site, the largest Mayan temple in Belize, called"Caana" or "Sky Place". The panoramic view from 42 metres( 140 ft) above the jungle floor was worth the climb.
On our return we had a refreshing swim in the Rio on Pools, a series of small waterfalls, cascading over large boulders, but be careful, the rocks are slippery!
Our final 2 nights were at The Lodge at Chaa Creek , along the Macal River, still in the huge Mountain Pine Ridge Forest Reserve.  Owners Mick and Lucy Fleming, have 23 thatched, elegant cottages,  horseback riding, a butterfly farm that propagates the blue Morpho Butterfly and a huge salt water, infinity pool which merges seamlessly with the lush, tropical gardens and the sky. On our nocturnal walk we saw a Kinkajou, related to a raccoon,  with its 6 in. tongue collecting nectar, leaf-cutter ants and large, hairy tarantula spiders.  The whistling of the Cicada crickets and the roar of the Howler monkeys woke me up next morning, to see folk already bird watching.
However after breakfast, I took a tour to Calico Jack's Jungle Canopy and Zip Lining to do their 2 hr. Ultimo Explorer with 9 runs, 15 platforms, a cable walk, rappelling and finally flying like superman, by zip lining upside down! I also experienced Belize's only jungle swing El Columpio. Ascending a replica of a pyramid, I was launched  from its 15.2 metres(50 ft) apex on a rope "Tarzan Style". Now that's really seeing the jungle from a different aerial view!