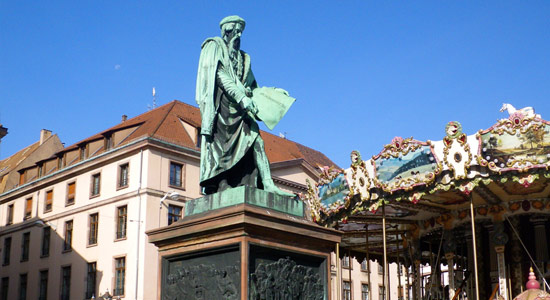 Article & photos by Rick Millikan
Leaving our riverboat moored along the German shore, a bus whisks us across the Rhine into France. All look forward to visiting Strasbourg and its historic Grand Ile.
Passing glassy new high-rises of the European Parliament, Council of Europe, Eurocorps, European Ombudsman and several International Banks, our guide Giselle remarks, "As you'll discover, Strasbourg was a natural choice for one of our European Union's three capitals offering a rich Franco-German heritage!"
Encountering light traffic, Giselle continues, "See those numerous cyclists riding on bicycle lanes?  Strasbourg encourages green solutions to gridlock offering 500-kilometers of bikeways and excellent tram service!"
Pointing out the well-disciplined lines of German architecture along a wide, straight boulevard, she notes, "Bismarck's armies invaded and claimed Strasbourg in 1870. Among their construction, this neo-classic National Library replaced the historic city library erroneously bombarded… My grandmother lived in this city under Germans; the French after World War I, Nazi Germany during World War II and again the French."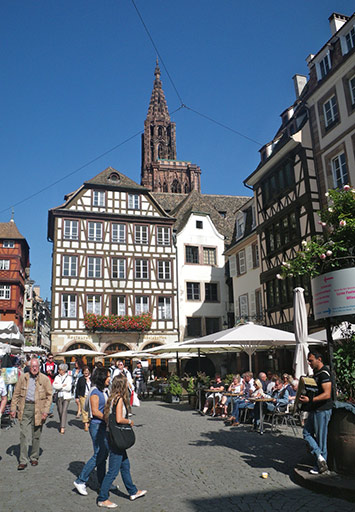 Passing beside a large park, we see storks perching atop a tall tree. Giselle grins, "Some believe our iconic birds deliver babies!  Many think differently about childbirth… as other folktales purport babies are found in local cabbage patches!"
Entering old Strasbourg, our bus skirts picturesque canals surrounding our island destination, a UNESCO World Heritage site. Our group soon saunters over a multi-arched stone bridge onto La Petite France. Our leisurely stroll winds over narrow cobbled streets through a medieval cluster of Rhineland-style black and white timber-framed buildings.
Entering sunny Place Gutenberg, we head to a statue dominating the square. Its plaque tells us Gutenberg created his moveable-type printing press and published the first modern newspaper in Strasbourg.  Giselle points out the Renaissance style town hall. "It was built when Strasbourg was a free city of the Holy Roman Empire. After the Thirty Years' War in1681, Strasbourg and surrounding Alsace-Loraine was ceded to France. Still speaking German and Alsatian, our local dialect, we then officially spoke French!"
A few blocks away, we come to an even larger square. Magnificent six-story Kammerzell House stands on a corner of Place de la Cathédrale. While admiring friezes of medieval lore, stained glass windows and panels swirling with color, we hear the interior remains embellished with lavish frescoes.
Cathedral of Our Lady towers above the site of an ancient Roman temple. Inside this gothic marvel, Giselle explains the importance of stained glass windows. "These depictions helped early Christians understand the apocalypse.  The opposite wall's kings appear with halos justifying divine birthrights… Imagine simple country folk embracing such lessons with awe! Thankfully these windows survived the French Revolution's chaos and World War II bombings!"
A famed 1843 clock stands behind the altar. This astronomical clock registers day, month, year, zodiac sign, moon phases and planetary positions. Every quarter hour this huge clock presents a mechanical "Youth" striding past a skeleton with Christ watching above, reenacting mortals march through time. At half past noon, a life-size rooster crows thrice, heralding a procession of 18-inch high figures of Christ and the Apostles.
Exiting into the sunny square we saunter along a busy shopping street to the canal and discover Palais Rohan basking in baroque splendor. A sign recounts how Strasbourg's Bishop commissioned this monumental palace and how illustrious guests included Louis XV, Marie Antoinette, Napoleon and wife, Josephine. It served next as the imperial German University's main building and since housed three of the city's most important museums.
Crossing another stone bridge, we look again at panoramic Grand Ile then find our waiting coach, which whisks us back to our Scenic Tours riverboat. Everyone agrees: Strasbourg is très extraordinaire!