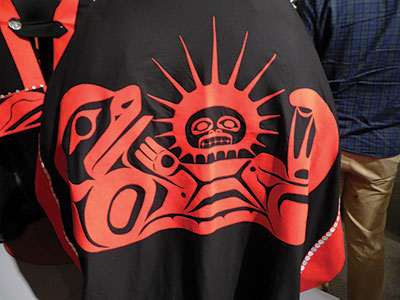 Gwaii Haanas is a Haida Heritage Site, A National Park Reserve and Marine Conservation Area. Gwaii Haanas has 5000 km of rainforests, lakes and rivers and a great variety of birds.
I have always wanted to visit Haida Gwaii, 640 km north of Vancouver and 130 km off the BC coast so I am thrilled that the Bill Reid Gallery of Northwest Coast Art is exhibiting Gwaii Haanas: Land Sea People from Oct. 28, 2015 to Mar. 27, 2016.
The artists honour the close relationship of humans with the land and sea. Master Carver Jim Hart created SGuuluu Jaad, the ancestress of the Haida, who was the mother of all Raven People. The clans of Haida Gwaii are all descended from her 5 daughters and 5 sons.
The Haida Gwaii Watchmen Program has Haida in the southern villages protecting the totem poles as they continue their life cycle of returning to the earth.
It was 30 years ago in Oct.1985 that the Haida blockade at Athlii Gwaii, Lyell Island occurred, putting an end to the destructive logging practices. Four elders were arrested at this time and their ceremonial robes are displayed. The Archipelago Management Board robe is worn by the superintendent of Gwaii Haanas during ceremonial events. The sea otter depicted represents the area for sustainable management. The Archipelago Management Board consists of 6 directors of equal representation from the Haida nation and the Government of Canada.
During the 60s, 70s and 80s artists including Bill Reid, Joe Plaskett and Jim Willer sailed around Gwaii Haanas on the Skipjack troller, skippered by Bill Ellis. Bill Reid's engraved silver bracelet depicts "Bill and Bill on the Skipjack and the image of Joe Plaskett's pastel "a View from Ninstints" was made into a Canada Post stamp in 1980.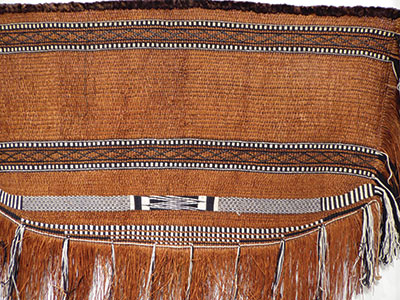 Victoria Moody, a weaver from Skidegate created the Transition Robe 2000 which features both wool and red cedar. The red cedar bark was collected from 6 Haida totem poles that were raised for the Haida Heritage Centre at Kay Linagaay.
Bull kelp canopy creates a home for sea creatures. Kathy Pick used spool knotting to create the delicate kelp columns.
I also viewed the Great Box, a replica of a beautiful, antique bentwood box and a cultural treasure.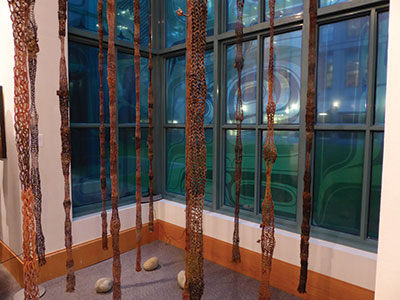 This exhibit provided a lovely interlude on a rainy Vancouver afternoon.