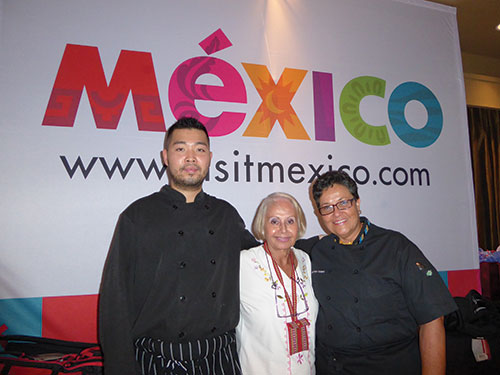 After a trip often it is the memories of the food and wine we experienced, that lingers, rather than the material purchases, since we tire easily of the things we own. In Nov.2010 UNESCO honoured Mexico for its gastronomy as part of their "Intangible Cultural Heritage", reflecting traditions passed down from generation to generation.
Therefore I was thrilled during MEXICOfest on Sept 9, 2015 that Chef Betty Vazquez brought Mexican Culinary Tourism to a gala in the Richmond Country Club. Exec. Chef Betty Vazquez runs El Delfin Restaurant in the family's Garza Canela Hotel in San Blas, north of Puerto Vallarta in Riviera Nayarit. Originally Chef Betty trained as an airline pilot but food was her passion. At Texas Univ. in Houston, she studied Hotel Hospitality and continued with the University Culinary Arts Program at Cordon Bleu in Paris. Having travelled internationally learning about the cuisine in New York, France. Spain and Italy, Chef Betty created a fusion of flavours, making her Mexican menus more dynamic.
Chef Betty told me she was delighted to work with the Richmond Country Club's Chef Fabien Angeard and his multi-national staff preparing the 4-course menu.
For the 1st course, in honour of BC, Chef Betty constructed a BC salmon only, fish ceviche scented with tequila and mixed with red onion, serrano pepper, parsley, sea salt and lime juice with a drizzle of crumbled toasted tostados lining the plate.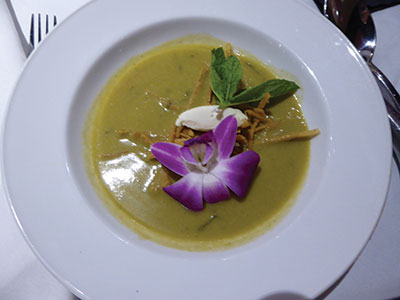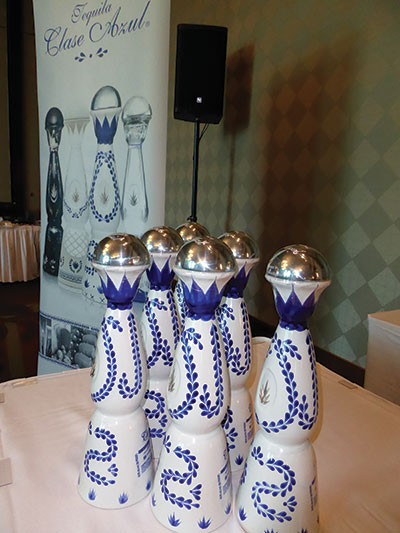 Poblano pepper is a mild chile, sweet with subtle heat and is named after the State of Puebla. The Tomatillo or Mexican husk tomato was part of the culture of the Maya and Aztecs. Hierba Santa, meaning sacred leaf in Spanish, has a heart-shaped velvety leaf with an aroma of eucalyptus and mint. The 2nd course, a Poblano Pepper Cream Soup, blended poblano pepper, green tomatillo, hierba santa, pumpkin seeds, onion and garlic and was topped with an oval goat cheese quenelle, tortilla strips and an edible purple flower.
Chile guajillo is sweet with a hot finish and chile de arbor, tree chile or bird's beak chile, is thought to be traceable to cayenne pepper. For the main course I chose Sablefish in 2 Dried Peppers Sauce and another guest chose the Angus beef with the same sauce combining chile guajillo, chile de arbol, cumin, oregano, onion, garlic, tomatoes and orange juice. The same sauce went well with both the meat and fish. Peller Estates Merlot with flavours of cherry, black tea and spice paired well with the  Angus beef and the Sablefish was paired with the Peller Estates Chardonnay with hints of vanilla, oak, pear and honeysuckle.
When in Mexico, I like to buy pure vanilla. Vanilla is derived from orchids of the genus vanilla and mainly from the Mexican species, flat-leaved vanilla. Apparently Hernan Cortes introduced vanilla and chocolate to Europe in the 1520's. Vanilla is the 2nd most expensive spice after saffron, since hand-pollination is required to set the fruit, from which the flavoring is obtained. How appropriate it was for our dessert to be Vanilla cake and Chocolate ganache with chile de arbol.
Our beautiful meal was made even more enjoyable learning about the history of its ingredients. Muchas gracias.