Article & photos by Lenora A.Hayman.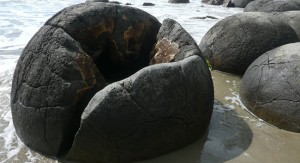 Oamaru, in North Otago, New Zealand, on the East Coast of the South Island is an easy 3½ hr. Intercity Bus ride from Christchurch. It was in Oamaru,  that the world first learned, by way of cable, sent on 10 Feb.1913, of the death of Capt. Robt. Falcon Scott and his team, on their return from the expedition to the South Pole.
Many public buildings are built of white limestone called Oamaru stone, including the restored Opera House whose blue lights lit up the night sky. A sign announced outside that at a future date Dame Kiri Te Kanawa, the NZ opera star, who sang at Prince Charles and Lady Diana's wedding, would be performing.
Both Waitaki Girls' High School, where N.Z author Janet Frame was a former student, and Waitaki Boys' High School where Denis Blundell, the first NZ-born and resident Governor General, was  a student, are in Oamaru.
I had the pleasure of staying with my friends Donald and Heather Harvey, whose home is surrounded with wonderful roses and bearded iris, which thrive in the calcium from the Oamaru stone. Heather's moist, date scones are legendary.
The Little Blue Penguins are the world's smallest penguins, and the Oamaru Blue Penguin Colony nest along the Historic Harbour Foreshore. During the day most of the penguins are out fishing with only a few remaining  in the burrows. We therefore, went in the evening and chose the premier viewing stand to be closer to the penguins, rather than the general entry. Do dress warmly with socks and windbreaker, regardless of the time of year. We saw 6 groups or rafts of about 200 penguins that night, emerge at 9:00pm from the water, clamber up the rocks and waddle to their wooden, burrow, nesting areas. Oil from glands under their tails is picked up by their beaks to preen their feathers as a water repellant. Unfortunately no photos are allowed, since too many flashes either intentionally or otherwise were going off and disturbing the penguins.
Just 40 kms south of Oamaru are the Moeraki Boulders on Koekohe beach. We got there early before the crowds, and walked down the hill to see at low tide, some of the 50 boulders, the biggest weighing 7 tons and 2-3 metres wide. It is thought that these grey, spherical boulders were dislodged from mudstone and some are streaked with septarian concretions or cracks, mysteriously filled with gold coloured calcite.
After watching a dolphin frolicking in the ocean, we drove to State Highway 1 Waitate and the Blueskin Nurseries and Café. This wonderful garden centre has ornamental trees, NZ native shrubs, edible flowers, fruit trees including stonefruit hybrids, such as plumcot, peacherine and peachcot and a unique range of giftware and garden art. I loved sitting outside in their garden enjoying a smoked salmon bagel with pesto and a chai latté.
Some say that folk living in Dunedin ( the Edinburgh of the South) are more Scottish than the Scots. Since Dunedin was only 19 kms from Waitati, we had time for a quick visit. The Octagon in Dunedin,  the  eight-sided plaza, is Dunedin's City Centre and the major hub for public transport in the city.
In 1989 St.Paul's Anglican Church in the Octagon consecrated and enthroned Dr. Penny Jamieson as Bishop Penny, who was the 2nd woman bishop in the Anglican Communion and the 1st woman diocesan bishop in the world.!
To the right is Dunedin's Town Hall completed in 1880 with civic offices, council chambers and auditorium. The statue of the Scottish poet Robbie Burns is in front of the cathedral.
In ANZAC Square, Dunedin's railway station with its Edwardian architecture has tiled arches and stained glass windows depicting locomotives.
Leaving Dunedin, we saw in University Plaza, the Forsyth Bar Stadium, NZ's newest and largest, indoor events arena with real grass under the transparent roof.
Back in Oamaru, when  Heather and Donald heard of my interest in NZ's blue cod that is exclusively found in NZ, mainly around the rocky coasts of the South Island, they took me to Fat Sally's Pub, Restaurant and Beer Garden for an excellent lightly battered, blue cod fish and chip meal.
Our farewell lunch next day was at Chef Bevan and Monique Smith's Riverstone Kitchen, 12 kms north of Oamaru. Following culinary training in Christchurch, Chef Bevan sharpened his skills in the United Kingdom and Brisbane, Australia prior to seven years ago, opening the restaurant on his parent's farm. Now his mother Dot Smith, runs the nursery and gift shop with its quaint, metal garden animals and also the flower and vegetable gardens. With vegetables and herbs from the garden and meat and fish sourced locally, you are guaranteed a fresh and flavorful meal.
A mural of riverbed stones on the restaurant wall looked down on the open kitchen and the happy guests. In 2010 Riverstone Kitchen was named Supreme Winner in the Cuisine NZ Restaurant of the Year Awards.
The fresh  herb and citrus notes of the Marlborough Johanneshof Gewürztraminer 2011 paired well with the hot smoked Mt. Cook salmon with new potatoes, salad greens, plus crème fraîche followed by a blackcurrant soufflé with their homemade, fresh, lemon ice cream and almond bread.
When Jessica, our Seattle waitress, heard that I was from Vancouver, she  accompanied my  dessert with two styles of dessert spoons, the large, classic dessert spoon that most New Zealanders use and the teaspoon that many North Americans use for their final sweet course. Now that's what I call service!