Many regard the city of Oaxaca, Mexico's culinary capital, so I was pleased that on the 1st night our group of Canadian food writers and Iron Chef Rob Feenie, were dining under the stars on the roof of  well known Exec. Chef Alejandro Ruiz's Casa Oaxaca restaurant overlooking the church of Santo Domingo de Guzman. Chef Alejandro's passion for Oaxacan  cuisine made it a fun experience, tasting salsa made at table side, blue bean soup with a hint of curry and duck tacos smothered with chili and chocolate mole topped with Oaxaca "string" cheese. The Chilean '09 wine Terra Andina Varietal Carmenere with its spicy, chocolate notes went well with several courses.
Next morning Chef Celia Florian, the delegate from the Conservatory of Mexican Gastronomic Culture accompanied us on a full day tour, enhancing the sightseeing with tasting and laughing over fine, traditional, indigenous meals.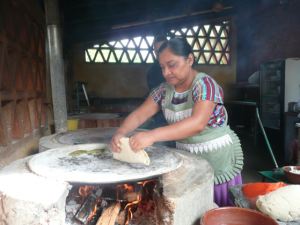 In the town & municipality of San Martin Tilcajete, 23 km from the city of Oaxaca, on the highway between Oaxaca & Ocotlan, is  the brightly painted La Azucena Zapoteca Restaurant & Gallery owned by Master Painter & Traditional Cook Maria del Carmen & husband  Master Carver Jacobo Angeles. On the comal or large flat pan, set over the open-air wood fire oven Maria baked a huge tortilla filled with cottage cheese, quintoniles( wild herb prehistoric leafy greens), garlic, roasted tomato salsa & shredded nopalita prickly pear.
After visiting the gallery next door & viewing Jacobo Angeles alebrije carvings & other artisans' Huichol chaquira beaded animals, we decided  to go to Jacobo Angeles family's alebrije factory in San Martin Tilcajete. Alebrijes are wooden figures, carved from the soft white wood of the female copal tree, indigenous to Oaxaca. Each piece is carved while the copal wood is wet, &  to remove insect infestation, figures are soaked in gasoline & insecticide, followed by baking to destroy the insect eggs and then dried for up to 10 months.  Wife Maria's exceptional style of  painting the figures with colours from pomegranate seeds, red cochineal, huitlacoche corn fungi etc. reflected  her Zapotec culture. Jacobo held in his hand powdered bark of the red male copal. Adding lime juice it changed to yellow, & crushed pomegranate seeds & lime created the colour green. To prevent fading, these natural colours are mixed with an infusion of honey & Copalharz.  Exquisite figures included an octopus, jaguar, iguanas & delicate butterflies.
Fortunately we  arrived in Zaachila  during their weekly Thurs market. Homemade chocolate mice, liquid honey, purple peanuts & live, brightly coloured chickens were being sold or bartered.
The Traditional Cook Yolanda Geminiano invited us to lunch at her huge outdoor La Capilla Restaurant in Zaachila, capable of feeding 2000 people. She showed us how to make her mole, fused with over 20 ingredients. Her underground earth oven cooked tender ribs & chicken in a similar fashion to the Polynesian luau.
Tequila may only be made from the blue agave in government-specified areas of Jalisco, Mexico. However mescal may be made from any variety of  agave. In Santiago,Matatlan, Anastacio Santiago Cernas, is the owner of the Palenque Don Tacho Mezcal factory. His artisanal, organic Real Matlatl Mezcal is made from Espadin agave traditional to Matatlan,Oaxaca. The plant cores or pinas are roasted in pre-hispanic ovens & then  crushed by the horse-drawn stone. We saw the Mezcal distilling via copper stills, a custom developed over 400 years ago. The Real Matlatl Mezcal Reposado, aged in American oak barrels for 6 months, had hints of smoked herbs, orange zest & spices. The Real Matlatl Anejo, aged 3 years in American oak, was velvety smooth with notes of nutmeg, cinnamon & vanilla.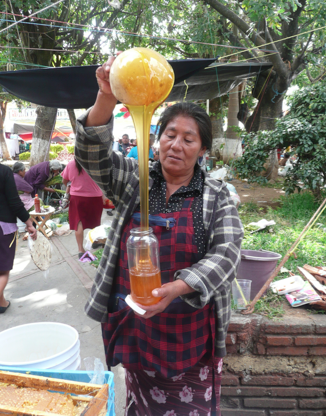 At the Tlamanalli Restaurant in Teotitlan del Valle it was a pleasure to meet  Traditional  Cook Abigail Mendoza who was part of the Mexican Culinary Team on Nov. 16, 2010, that persuaded the United Nations Educational Scientific & Cultural Organization(UNESCO) to add the cuisines of Mexico to the Intangible Cultural Heritage List. On a metate or mortar, Abigail demonstrated the grinding of maize into flour for tortillas. Out of her pretty, tiled, open kitchen, Abigail served a Zapotec squash blossom soup & a black mole chicken dish. Her Master Weaver sisters, Marcelina & Rufina Mendoza produced Zapotec wool rugs & tapestries, part of the long weaving tradition of Teotitlan del Valle.
At Chef Carina Santiago Bautista's Tierra Antigua Restaurant, we also learned  how to make the huge Tlayudas, similar to a tortilla- based pizza in her cocina de humo or smoke kitchen.
Back in Oaxaca, I can recommend the tasting menus at several restaurants who serve exquisite cuisine in equally beautiful surroundings. Exec. Chef Jose Manuel Banos at La Pitiona offered venison, suckling pig tacos & prepared nitro ice cream by infusing rich flavoured cream with liquid nitrogen & vigorously beating to form a solid  ice-cream stick.
Exec Chef Rodolfo Castellanos at El Origin invited Exec. Chefs Jose Manuel  Banos, Alejandro Ruiz & Iron Chef Rob Feenie to have fun in his kitchen. Rob Feenie did a fresh shrimp ceviche with Oaxacan sea salt, Chef Alejandro Ruiz seared tuna with Huatlacoche corn fungus, tomato & mushroom & Chef  Jose Manuel Banos, duck with avocado cream. We tried the dry salsa Chile Chiltepil, a sautéed mixture of chilies de arbol, sesame and pumpkin seeds.
We took time out  to visit, just 9km from town, the archeological site of Monte Alban inhabited for 1500 years by the Olmecs, Zapotecs & Mixtecs.
Our final stop was meeting Chef Ricardo Lemus, at the new & glamorous cantina Mezquite, Gastronomia y. Destilados. They offer fabulous cocktails, artisanal beers & wines and a complimentary, upscale tapas with each drink!
We stayed at the Hostal de la Noria, a beautiful hotel in the historical centre near the Zocalo.
Thank you Oaxaca. What a gastronomic playground you have!