Article & photos by Lenora A.Hayman.
When visiting the UBC Museum of Anthropology (MOA) this summer, from July 24-Sept.29, 2013, I felt I had travelled around the Polynesian, Micronesian and Melanesian islands of the South Pacific, in one day. Not only was there the Paradise Lost exhibition of 13 contemporary works from the Pacific, but the X1 Pacific Arts Association International Symposium was also held there during the 2nd week of August, bringing vivacious, museum and gallery curators, cultural leaders and researchers, collectors and artists together.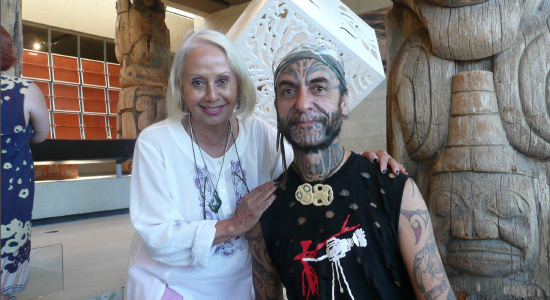 Rather than carve in wood, George Nuku, the NZ Maori carver, created his Waharoa/Portal: Te Ao Marama-The World of Light in modern-day clear Plexiglas, abalone or paua shells and feathers, allowing the light from the Great Hall windows to glisten through. George Nuku, not only has Polynesian Kirituhi tattoos on his body but also the Ta Moko or traditional, sacred, facial Maori markings on his face, to reflect his whakapapa or genealogy.
New Zealander, Te Rongo Kirkwood,  created as  sculptured  art, 3 contemporary Maori cloaks  from kiln-formed cold-worked glass, representing" a journey of life through light" and named them, The Morning of Life, in fawn, The Midday of Life, in red, and The Evening of Life in black.
Michael Timbin, from Palembei village in Papua, New Guinea, carved a Melanesian figure in Kwila wood, shells, bush fibre and human hair, whose 2 children Pasinawi and Pasindawa, in order to run away from home, transformed themselves, one into a snake and the other into an eel.
Pax Jakupam, the artist from Bene village in the Eastern Highlands Province of Papua, New Guinea, painted in bright, acrylic colours "the Mumu-traditional way of preparing and cooking food". The mumu (New Guinea), lovo (Fiji), bougna (New Caledonia) blong mekem laplap (Vanuatu), luau (Hawaii) and hangi (New Zealand) is the earth oven filled with heated stones. Banana leaves or wet sacking is placed on top of the stones and food, wrapped in banana leaves is placed on top, with more banana leaves covering the food, and then the pit is covered with earth.  After 4 hours, the earth is removed and delicious, smokey, flavoured food is the result.
Rosanna Raymond (Samoan), Katrina Talei Igglesden (Fijian) and Bethany Matai Edmunds (Maori) in the Fabricating Fashions, displayed creations in tapa or masi, Fijian bark cloth, including a tapa fascinator headpiece, the millinery style popular with Kate Middleton, the Duchess of Cambridge.
The Paradise Lost Exhibit, also extended until Aug.31st, 2013, to the Satellite Gallery at 560 Seymour St.
Three videos of Shigeyuki Kahara, dressed in Victorian Mourning Dress, showed her performing a solo Taualuga, the sacred siva samoa dance.  This is traditionally performed by a Taupou or daughter of a high chief, honouring Samoan or European ancestors and this dance also retold of the 2009 tsunami in Samoa.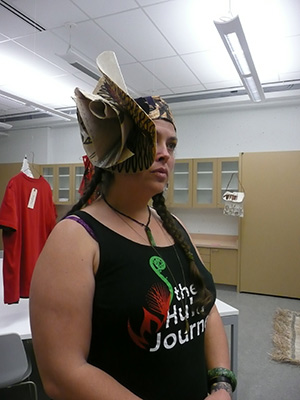 Greg Semu, a Samoan living in NZ, has created a glorious photograph, showing the impact of Christianity on the indigenous Pacific Island culture. In "The Last Cannibal Supper", Kanak people at the Tjibaou Centre in New Caledonia, were photographed re-interpreting Leonardo De Vinci's " The Last Supper".
Back at the MOA, most informative sessions given in a fun style were presented.
Tarisi Vunidilo, the Secretary General for the Pacific Islands Museums Association(PIMA) spoke on Fijian Treasures in International Museums- A Study of Museums and Repatriation.
Hermione Waterfield showed us counterfeit Maori art promoted by notorious forger, Edward Little (1876-19July 1953). With dexterity, these fakes were carved by the Torquay furniture restorer in South Devon and not the South Pacific!
Noelle Maile Kahanu, the Cultural Inventory Specialist and Director of Community Affairs at the  Bishop Museum in Oahu, Hawaii, showed us their spectacular renovations in the Polynesian Hall. Ceiling arches, like ribs of a body, gracefully connect the Koa columns and on the floor, an inlaid wood map of the Pacific leads to the new grand staircase.
Dr. Patricia Te Arapo Wallace from Canterbury University, Christchurch, NZ,  moderated Toi Maori: the Eternal Thread seminar where Deana Dartt, Rebecca Dobkins and Christina Wirihana  honoured the impact of the Maori weaving exhibit that had visited 4 venues in the States.
Barbara Wavell spoke of Asian influences on craft and architecture of Micronesia.
We were all honoured at the conclusion of the week with a magnificent Fijian feast at UBC'S First Nations House of Learning, cooked of course in a lovo, earth oven. We  ate multi-courses of pork, corned beef, chicken, palusami (leaves of dalo or taro layered with coconut milk and onions), purple taro root, cassava from which tapioca is produced and ceviche, the raw fish marinated in lime, along with a mango fruit salad soup.
Vinaka  vaka levu–A big thank you to the Fijian Culinary Team.