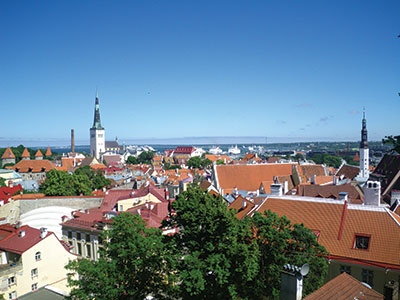 By Chris Millikan
Cruising the Baltic aboard HAL's Eurodam introduces us to a string of Northern European ports, including Tallinn, Estonia.
Walking from the port with shipmates, we enter its historic heart through Fat Margaret tower, part of Tallinn's 16th century fortifications. Just inside the gate stand 'Three Sisters.' These 15th-century merchant houses accommodated well-travelled guild elders, councilors and burgomasters…and as a luxury hotel today, still provide lodging for globetrotters.
Gabled medieval warehouses along Pikk Street, the original main street, evoke images of early citizens boisterously bartering for spices, meats and grains. Near St. Olaf's Church, a local points out former KGB headquarters and tells us, "Then, the Russians used St. Olaf's spire to block Finnish TV."     
Several early burghers' homes remain in old town. Among these, an intricate marble façade on House of the Brotherhood of Blackheads displays black patron, Saint Mauritius, repeating on their coat of arms and above the wooden doorway. A plaque explains bachelors comprised this merchant club. These young men were routinely called upon to defend the city. Marriage permitted their membership in the Great Guild. Another guild-house features the red-white emblem of the Hanseatic League's, a Northern European confederation protecting merchant interests in market towns like Tallinn.   
A 1633 clock on Church of the Holy Ghost prompts further investigations. Inside, Tallinn's old flag recalls 13th century Danish rule. The Danes later sold Tallinn to German Teutonic Knights, who lost it to Sweden, who then lost it to Russia.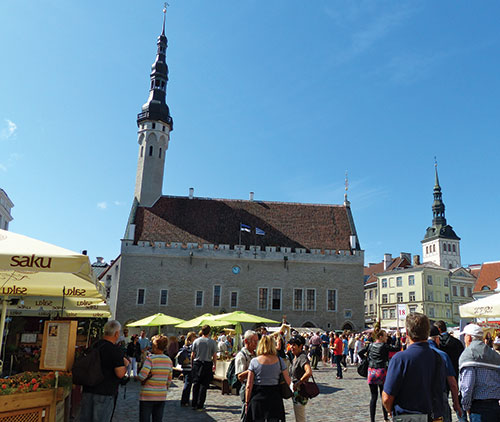 Market Square bustles. We notice the still operating 1422 pharmacy, said to be birthplace of marzipan. Years later, the world's first decorated Christmas stood nearby. Still dominating the square, the towering 15th century town hall has provided space for a courthouse, warehouse, theatre…and now a museum.
Vendors in medieval smocks and headgear tend countless rows of stalls overflowing with locally handcrafted goods. Feeling a bit like far-flung traders ourselves, on the look out for unique bargains, we eye delicate porcelain dishes, examine wooden toys and finger finely woven textiles. Bypassing stylish felted hats in brilliant colours, I buy a wonderful doll for my granddaughter. And relaxing at one of many outdoor cafes, we sip robust coffees, utilize free WiFi and listen to costumed performers belting out folk music on a central stage.
Proceeding to St. Nicholas Church, we discover that it served 13th century German merchants and knights. When Soviet forces bombed their early neighborhood in 1944, only this church was rebuilt. Like others, it doubles as an art museum and concert hall. In the park adjacent, men and women dressed as medieval archers demonstrate long and crossbow skills.   
Climbing to upper town along a cobbled walkway known as 'the short leg,' we investigate the Danish King's former gardens, still bordered by the city wall and one remaining defensive watchtower. Across the street, onion-domed Alexander Nevsky Cathedral recalls the days of Russia's imperial dominance. Toopea Castle stretches along the square's northern side, a 'pink palace' enclosing Estonia's Parliament. The national blue, black and white flag flies atop its tallest tower.
Passing numerous embassies, we enter another church. Unlike others, St. Mary the Virgin is just for worship and contemplation. Memorializing German aristocrats, hundreds of coats of arms cover the walls.
Through an archway, we join others at a popular viewpoint to admire 'lower town,' a mosaic of red tile roofs, green spires and creamy walls. Purchasing fresh-roasted cinnamon-dusted cashews from a vendor, we munch our way along the upper city wall to descend past artists painting cityscapes and a violinist passionately playing concertos.
Leaving this fairytale town, we soon board our ship and at dinner toast Estonia's enchanting World Heritage capital.