By Rick Millikan 
Above Iroquois Falls stands a bronze statue of Father Labelle, one of Quebec's early enterprising priests. Labelle established the 200-kilometer P'tite Trend u Nord in the 1800's to transport wood from the Laurentians southward to Montreal. Montrealers later rode this rail line packing skis into what became a famed winter playground. Now from early June to October cyclists of all ages soft-pedal upon its solid rail-bed communing with nature with stops to savor European cuisine.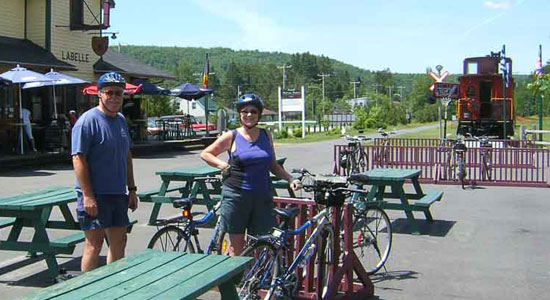 Parking at kilometer 0 near St Jerome's old station, my wife Chris and I are shuttled upward to cycle back on the lower section of this popular linear park.  In Labelle the van drops us off and quickly disappears carrying our baggage to the later en route B&B.  Toting only bottles of cold water and cameras, we soon beeline southward through forests of white-barked birch, long-needled bull pines, stately maples and tall firs. We proceed into a countryside opening into plush green meadows. Serenely we breeze along its 2% slope. Spotting some woolly critters, a drama enfolds.  A huge heroic sheepdog springs forward, loudly woofs…and proudly escorts his flock away. Meanwhile brown Swiss cows graze on grassy nearby knolls. And further along the trail a brave Bambi poses for some pictures before bounding into the bush.
Signs declaring Les Jardins de L'Achillee Millefeuille and Cyclists Welcome draw us into a rustic B&B just off the trail. The smiling owner emerges, telling us about her piece of Eden. Resuming our pedal, we pass its campground complete with teepees.
The trail winds around Lac Mercier to the village of Mont-Tremblant and our B&B, Auberge La Porte Rouge. Above its bustling beach, we pose victorious under a banner announcing the weekend triathlon. The golden afternoon ends with a refreshing swim in its placid lake and a celebratory dinner on the Auberge's wide terrace.
Early next morning I cycle along the river into famed Mont Tremblant, named by natives believing this mountain trembled when their god Manitou passed. Fantabulous homes dot its mountainside. Upon leaving, I photograph Mont Tremblant's town center with a pond and beaver lodge in the foreground. Evidently Bucky Beaver resides among the rich and famous…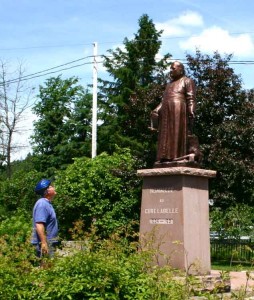 Our ride continues into Val David, an artsy community of many galleries and two busy outdoor shops.  We lunch off the trail at its La Maison de Baviere perched above the cascading Riviere-du-Nord and Lover's Park.
The trail follows the river past sheer rock bluffs, which attract sporty climbers, then twists into shady forests. As the green valley narrows, Riviere-du-Nord becomes a white torrent. Descending through narrow granite canyons carved over a century ago by TNT toting railroaders, we exuberantly coast through the woodsy landscape.  Here Chris declares herself "Downhill Queen!" Eventually Riviere-du-Nord slows and flows into Lake Raymond, where fellow cyclists cool off in its clear waters.
On the outskirts of Saint Adele, a steam-engine façade welcomes us to Auberge de la Gare.  Our host Michel soon serves two of his ten stocked Belgian-style brews. Sitting above floral gardens on a large breezy veranda, I savor an icy Canadian variety with a patriotic hint of maple syrup and note its label featuring a rosy maple-leaf-cheeked girl. Having explored trails around Quebec City and Montreal, we chat about La Route Vert, Quebec's awesome 5,000 kilometers trail-network. Michel tells us about a newly paved link to Montreal.
Our days of carefree, car free fun ends the next afternoon in St. Jerome.  Filling up with costly gas, we navigate our return to Montreal through North America's regular traffic snarls.  For us La Belle Province of Quebec and Laurentians is best enjoyed on two-wheels.